About the Director
Bard in the Yard is different, unique, one-of-a-kind. It's Shakespeare outdoors and in your face. "Great show last night. Break legs and melt faces on your closing!"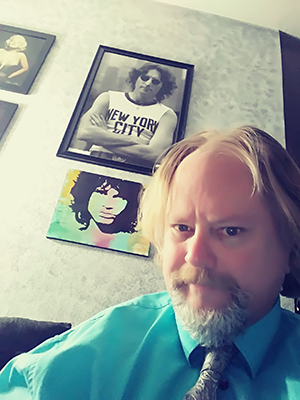 A thirty-year+ resident of Elko, Frank L. Sawyer graduated from Elko High School, in 1984, and received his Bachelor of Fine Arts degree in Theater from the University of Nevada, Reno in 1989. A veteran of nearly 100 productions, he has worked with such groups as the Nevada Repertory Company, Ruby Mountain Symphony, Nevada Children's Theater, Pioneer Lab Theater, Dr. Morpheus' Theater of the Dead, Great Basin College Theater, Elko Overland Stage Theatre Company, Ghost Light Productions, Area 52 Productions, CCE Little Theater, and Silver Stage Players.
Local director, actor, and community volunteer Frank L. Sawyer has directed such shows as Poe & Pints (3-times recognized in the Elko Daily Free Press' Readers' Choice Awards in the 'Best Annual Event' category), Incredible Stories, Glengarry Glen Ross, The Last U.S. Mail Stage Robbery (2010, 2014), War of the Worlds, Talk Radio, Bringing It All Back Home, Seascape with Sharks and Dancer, I Do! I Do!, Much Ado About Nothing, and Lysistrata, among others. Frank has appeared on stage in The Trial, Antigone, Damn Yankees, The Music Man, The Legend of Sleepy Hollow, Bard in the Yard II, Escape from Tonopah, A Christmas Carol, Macbeth, Twelfth Night, Tom Sawyer's Saturday with the Ruby Mountain Symphony, The Reluctant Doctor, The Trial of Ebeneezer Scrooge, Poe & Pints, The Vagina Monologues, and Glengarry Glen Ross among others.
Frank is a past four term SSP Chairman, SSP Life-Member honoree, served on the Elko City Arts and Cultural Advisory Board, is a member of Alpha Psi Omega national acting fraternity, and has served on the GBC Arts and Cultural Enrichment (ACE) committee and the GBC National Endowment of the Humanities Grant Committee for the past two years. Frank is a long time community volunteer, and is currently employed at GBC as the school's web designer. Frank is married to local artist, actor and volumteer Erika Patrick while making their home in Elko with family and theatre puppy Starbuck.
Follow us on: