Bard in the Yard I - The Trappings of Love
Bard in the Yard is different, unique, one-of-a-kind. It's Shakespeare outdoors and in your face. "Everyone I know needs to go watch this!"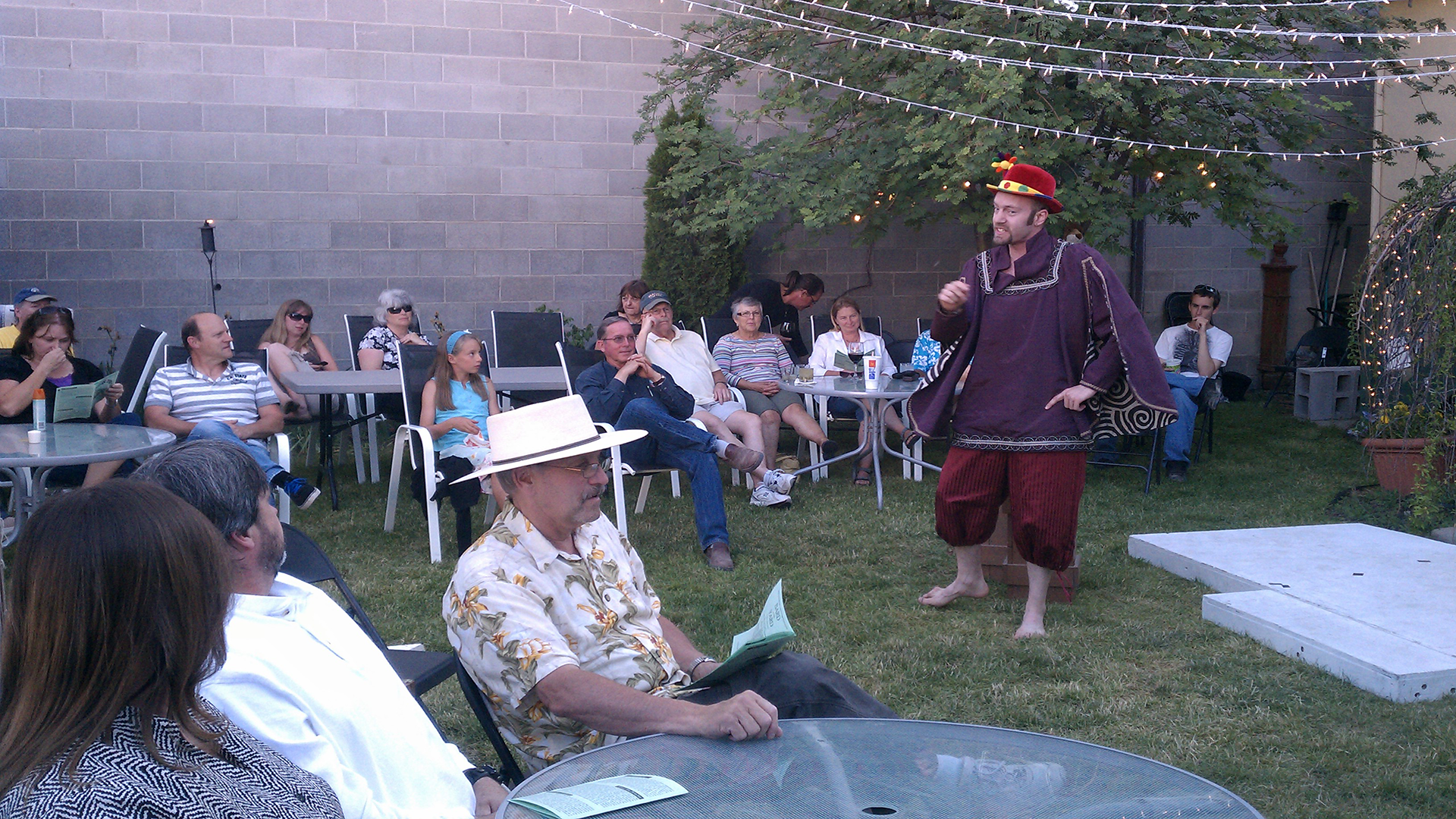 "The course of true love never did run smooth!"
Help the Silver Stage Players celebrate their diamond anniversary with Season 2011: Brought to You in 3D! with the staging of Bard in the Yard. This unique production features excerpts from five of William Shakespeare's romantic comedies performed in an intimate outdoor setting. Conceived by director Frank L. Sawyer, Bard in the Yard explores the trappings of love using selected works that best depict how love can be manipulated, set in motion, derailed, and ultimately flourish. Performances are scheduled for July 1, 2, 7, and 8 beginning at 7 PM in the back yard of the Duncan LittleCreek Gallery located at 518 Commercial Street in Elko Nevada. There is no charge for this all-ages show. Donations will gratefully be accepted. The show includes passages from A Midsummer Night's Dream, Twelfth Night, Taming of the Shrew, Love's Labours Lost, and Much Ado About Nothing.
William Shakespeare was born in Stratford-upon-Avon, allegedly on April 23, 1564 and raised there by John Shakespeare and Mary Arden. An English poet and playwright, Shakespeare is widely considered as the greatest writer of all time. He is often regarded as England's national poet and the "Bard of Avon". Between 1585 and 1592, he began a successful career in London as an actor, writer, and part owner of the acting company called the King's Men. Shakespeare produced most of his known work between 1589 and 1613. His early plays were mainly comedies and histories. He then wrote mainly tragedies until about 1608, including Hamlet, King Lear, Othello, and Macbeth, considered some of the finest works in the English language. His plays and have been translated into every major living language and are performed more often than those of any other playwright. William Shakespeare's words have endured for 400 years, and still reach across the centuries as powerfully as ever.
Directing the Players for the twentieth time is Board of Directors member, actor, and director Frank L. Sawyer. A veteran of over forty SSP productions, Mr. Sawyer's directing credits include Much Ado About Nothing, I Do! I Do!, The Odd Couple, Lysistrata, The Zoo Story, and The Last U.S. Mail Stage Robbery among others. About the opportunity Sawyer said, "It is an honor to partner with Duncan LittleCreek Gallery and their wonderful staff on this production. Playing outdoors in this unique environment will be an amazing experience for our audience, actors, and technicians. We are grateful to Jacques Errecart, Joan Anderson, and Jennifer Anderson of DLC for the opportunity to perform there." Starring and providing technical expertise in the production are SSP members Heidi DuSoleil, Anthony Piper, Shanelle Millage, Donald Jones, Christy Harper, Cassie Rizzi, Paula Wolford, Erika Patrick, Chris Langer, Gage Smith, Caleb Tapia, Travis McKenna, Derek Burwell, John Wright, Chelsea Jackson, Mixmaster C!RCU!T, and Trent Thompson.
Celebrating their diamond anniversary, the Silver Stage Players is dedicated to providing the finest theater, community service, and educational opportunities to its members and the residents of northeastern Nevada. Its seventy-five year history is one of creativity and thought provoking theater. The company has challenged audiences, pushed the envelope of live theater, and attracted the area's most talented actors, designers, and directors since the 1930s. Recent productions include Death of a Doornail, Damn Yankees, Godspell, Nunsense, The Legend of Sleepy Hollow, A Christmas Carol, War of the Worlds, Scrooge Makes Up, Lysistrata, Greater Tuna, Joseph and the Amazing Technicolor Dreamcoat, The Man of La Mancha, The Last U.S. Mail Stage Robbery, and Much Ado About Nothing.
Providing theme music prior to curtain is the local group Southwind. Southwind was started by pianist Diane Madigan and violinist Carolyn Steninger more than 19 years ago. The trio of local folk musicians repertoire is vast including the heritage music played by Nevada's pioneers: the jigs, reels, airs and traditional songs of Ireland, Scotland and Early America. Southwind is composed of Ken Harriman, Susan Lawrence, and Carolyn Steninger. The performance group has had a number of members over the years who have moved in and out of the community. Steninger was trained in classical violin until age 19. She was introduced to American folk music in Vermont and New Hampshire as has been playing Celtic, Early American and folk music ever since. Lawrence picked up the Appalachian lap dulcimer after watching a former Southwind band member play it. Harriman is a guitarist and singer with the group. Southwind is the featured artists every Wednesday night at an informal jam session held at the Duncan LittleCreek Gallery.
Located at 518 Commercial Street in Elko Nevada, Duncan LittleCreek Gallery is one of the arts centers of Elko. Featuring artwork, jewelry, sculpture, and other art, DLC offers a comfortable, smoke-free atmosphere with an extensive list of wine, beer, and specialty drinks. With over 50 wines, micro-brew beer, specialty martinis, and cocktails made with the freshest ingredients, DLC is a favorite destination for locals, area visitors, private parties, receptions, weddings, and other occasions. Call 775-738-3426 for pricing, catering options, and availability. Visit their web site at www.dlcgallery.com.
For more information about Bard in the Yard or the Silver Stage Players, please call the director at (775) 753-5474, e-mail the company at act@silverstage.org or visit us on the web at www.silverstage.org.

Related
Follow us on: