Bard in the Yard IV - Royally Screwed!
Bard in the Yard is different, unique, one-of-a-kind. It's Shakespeare outdoors and in your face. "Everyone I know needs to go watch this!"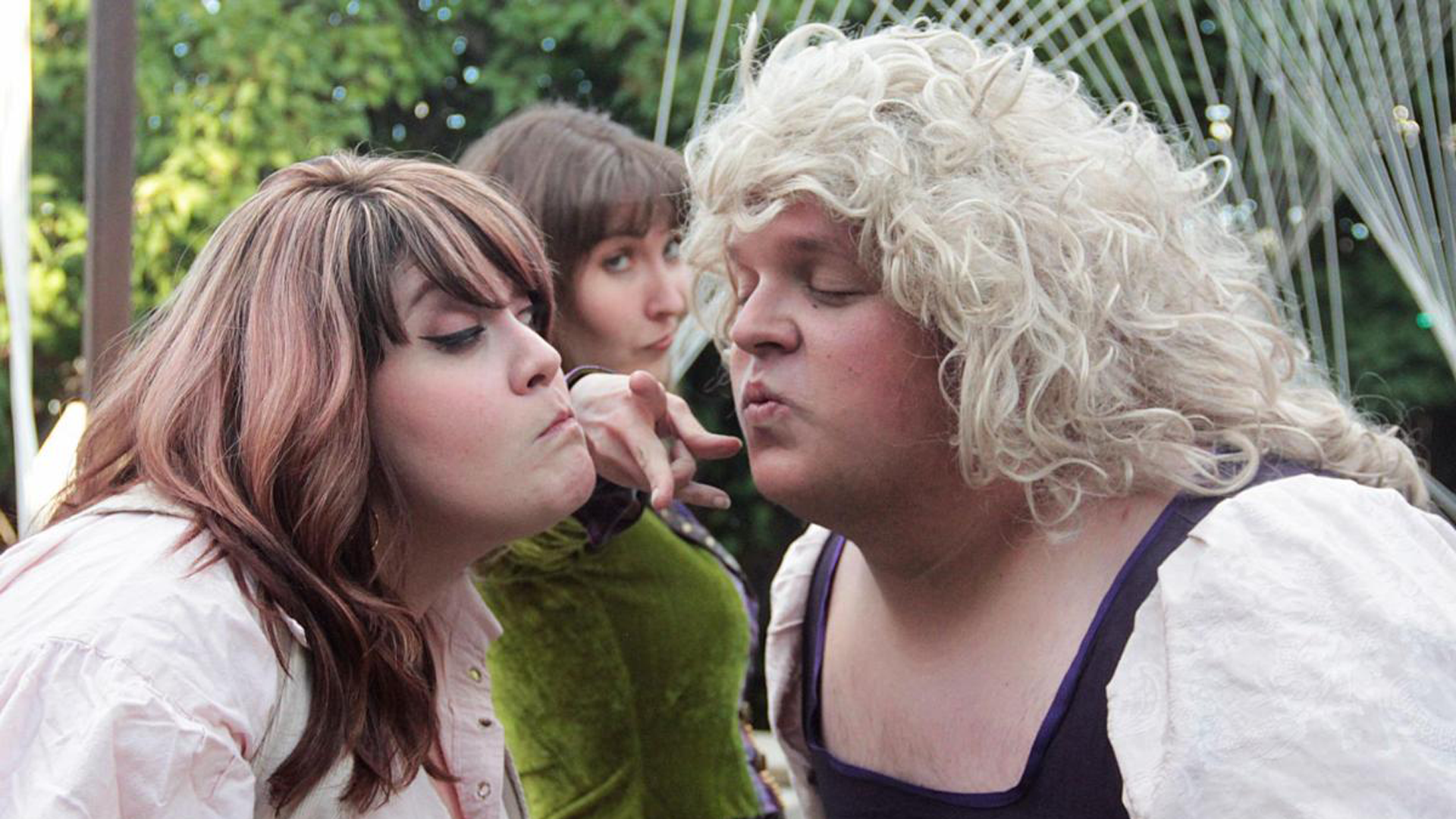 "But, while kings and queens play their games it is the pawns, the people, who are royally screwed!"
Shakespeare under the stars returns to Duncan LittleCreek Gallery with Silver Stage Players' Bard in the Yard 4- Royally Screwed! This unique production features excerpts from the works of William Shakespeare performed in the intimate and outdoor setting of the DLC Gallery backyard. Conceived by director Frank L. Sawyer in 2011, the Bard in the Yard project explores themes in Shakespeare's plays.
2017's version of this highly popular project features the theme, "Royally Screwed". Power draws the corrupt and also corrupts the pure. Regicide, kin-slaying, murder, and the lies....oh yes, all the lies. But, while kings and queens play their games it is the pawns, the people, who are royally screwed! We explore the struggles between the lower class and those in the aristocracy. Sometimes the little guys strike back in anger, humor, and violence. Most of the time the poor see those in power taking advantage of those under their rule. The show is narrated by Shakespeare's classic character Puck from A Midsummer Night's Dream.
Performances are June 22-24, 29, 30 and July 1 beginning at 7 PM in the backyard of the Duncan LittleCreek Gallery located at 518 Commercial Street in Elko Nevada. The show includes passages from King Lear, The Merchant of Venice, Othello, and A Midsummer Night's Dream among others. Tickets are only $10 and are available at the door.
Directing Bard in the Yard for the fourth time is Frank L. Sawyer. Frank's local directing credits include Poe & Pints, The Last U.S. Mail Stage Robbery, Much Ado About Nothing, I Do! I Do!, Lysistrata, Glengarry Glen Ross, Talk Radio, Bringing it All Back Home, and The Zoo Story among others. Sawyer said, "We look forward to hosting our guests and providing a unique and compelling evening of Shakespeare outdoors." He continued, "Our cast and crew will work very hard to offer the community a wonderful evening of theater." Joining the group in the event's planning, production, and performance are local actors and volunteers Kate Rhoswen, Cassie Rizzi, Thomas Stafford, Caleb Tapia, Derek Burwell, Josh Webster, Don Jones, Nick Cdebaca, Heidi DuSoleil, Meghan Hendrickson, Laura Cdebaca, Dawn Dolberg, Meghan Jonas, Tan Li, Caleb Micheli, Sean Miklovic, Ian Montgomery, Erika Patrick, Sam Nyberg, Wendy Ramirez, Becky Brown, Emily Anderson, Sandy Beeler, David Patrick, John Wright, John Wells, Albert Harmer, Toril Hansen, Kodi Goddard, Jacques Errecart, Joan Anderson, and Jennifer Anderson.
William Shakespeare was born in Stratford-upon-Avon, on April 23, 1564 and raised there by John Shakespeare and Mary Arden. An English poet and playwright, Shakespeare is considered the greatest writer of all time. Between 1585 and 1592, he began a successful career in London as an actor, writer, and part owner of the King's Men acting company. Shakespeare produced most of his known works between 1589 and 1613. His early plays were mainly comedies and histories while his later works were mostly tragedies. Hamlet, King Lear, Romeo and Juliet, and Macbeth, are considered some of the finest works in the English language. His plays have been translated into every major language and are performed more often than any other playwright's. Shakespeare's words have endured for over 400 years, and still reach across the centuries as powerfully as ever.
The Silver Stage Players is a non-profit theatre company dedicated to providing the finest theater, community service, and educational opportunities to its members and the residents of northeastern Nevada. Its eighty-plus year history is one of creativity, thought provoking theater, and volunteerism. Offerings through the years include The Last U.S. Mail Stage Robbery, Steel Magnolias, Bard in the Yard, CLUE, Godspell, Nunsense, The Legend of Sleepy Hollow, A Christmas Carol, War of the Worlds, Scrooge Makes Up, Lysistrata, Greater Tuna, Joseph and the Amazing Technicolor Dreamcoat, The Wizard of Oz, The Man of La Mancha, and Much Ado About Nothing.
Located at 516 Commercial Street in Elko, Duncan LittleCreek Gallery and Bar is one of Elko's arts centers featuring paintings, jewelry, sculptures, and more. DLC offers a comfortable, smoke-free atmosphere with an extensive list of wine, craft beer, specialty martinis, and cocktails made with the freshest ingredients. DLC was voted "Best Bar" in the Elko Daily Free Press Readers' Choice Awards and is a favorite destination for locals and area visitors alike. It's a great place to see live music, plays, artist receptions, book parties, weddings, and other occasions. Call (775) 738-3426 for more information or visit their Facebook page for upcoming events.
For more information about Bard in the Yard 4 – Royally Screwed, please call the director at (775) 934-3721, e-mail at flsawyer@designlunacy.com or visit us on the web at www.silverstage.org and www.bardoutside.org

Related
BITY 4 Promotional Video 1
BITY 4 Promotional Video 2
Shakespeare brought to life - Elko Daily Free Press, Jun 16, 2017
Bard in the Yard 4 slated this month at DLC - Elko Daily Free Press, Jun 1, 2017
BITY 4 Program
Follow us on: